Step 1 - Export your data from your existing electronic Logbook program
The file format must be .csv .xls .xlsx .txt or any other file type which can be opened in Excel (or other spreadsheet program)
For Logten Pro users:
Reports -> Exporters -> Export Flights (Tab) .txt file
Step 2 - Copy/Paste each column
Open the exported file in Excel (or whichever spreadsheet program you use).
Copy each (entire) column, one at a time, from your .txt file
Paste into the correct column in your Excel Pilot Logbook.
NOTE: Paste only in the Logbook Entries area and NOT at the very top in the headings area (as this will override the heading names). In other words paste into row #3.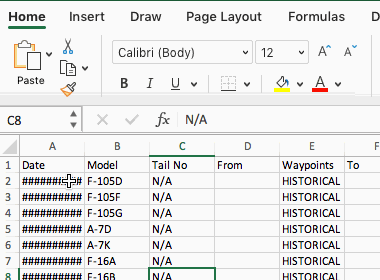 Once you have pasted the data, in order to maintain the same formatting/design in your logbook, click the icon and select "Values Only" (after clicking the 'Paint Brush' icon, in Excel).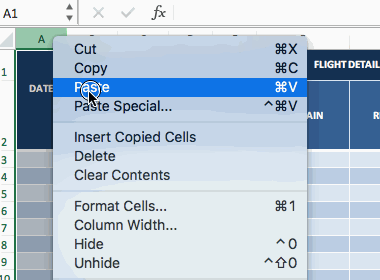 Step 3 - Reset Date format
If your Dashboard is blank, even after entering your Aircraft Types, you may need to reset the date format.
Highlight the entire Date Column.
Select: "Data -> Text to Columns"
And click through "Next" to finish.