Updates are free for 12 months.
If you want to upgrade after 12 months, you will need to purchase the latest version separately.
Note: all updates which involve any 'bug' fixes are free for life.

All updates including any new features are considered an 'upgrade'.
We do not charge a subscription for our products. Once you have purchased a copy, it is yours to use forever. We only charge for major updates which include new feature and improvements. Again, these are not mandatory to purchase.
You are under no obligation to update and you may continue running your original version, with no issues.
We strive to continuously improve by adding new features and want to make it worth your while to purchase updates (after the initial 12 month period).
Please let us know if you have an idea or would like to see something in your logbook.
How to transfer your Logbook to the new version
Copy and Paste each column (in the Logbook page), one at a time.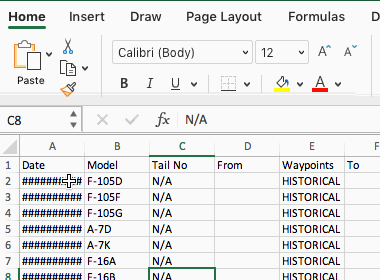 Once you have pasted the data, in order to maintain the same formatting/design in your logbook, click the icon and select "Values Only" (after clicking the 'Paint Brush' icon, in Excel).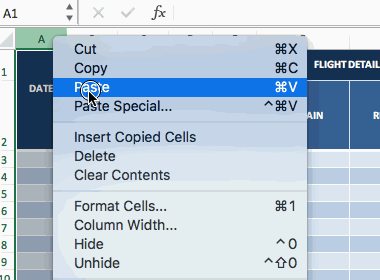 Copy and Paste the Aircraft Types into the Dashboard